Our next meeting will be held in person on July 13th at 7:00 p.m. in the lyceum at the Center of Southwest Studies at Fort Lewis College. After a brief business meeting, Thomas C. Windes will present "Hard Times and Mobility in the Thirteenth-Century Bears Ears National Monument area, SE Utah: A Chronometric Study."
Thomas is an Adjunct Assistant Professor at the University of New Mexico doing research in Archaeology and Historical Anthropology. His current project is 'Structural Wood Project in Beef Basin and on Cedar Mesa, SE Utah." He received his anthropology degrees from the University of North Carolina (B.A., 1965) and the University of New Mexico (M.A., 1967). He worked in the Chama River Valley and southeastern Utah before joining the Chaco Project in 1972. Ever since then he has worked on Chaco-related archaeological survey and excavation projects; the results of his work have been published in Scientific American, American Antiquity, Kiva, Journal of Archaeological Science, and other journals, as well as the site reports of the Chaco Center. Tom's specialties include ceramic analyses, dating techniques (such as tree-ring and archaeomagnetic dating), a Chacoan shrine communications system, ant studies, and turquoise craft activities. He also is involved with inventorying communities around Chaco Cultural National Historical Park. Tom's interest in tree-ring dating extends to historic sites, and he has worked on dating traditional Hispanic communities in northern New Mexico.
SJBAS Newsletter – Moki Messenger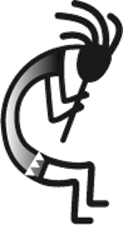 The San Juan Basin Archaeological Society (SJBAS) is a Colorado Nonprofit Corporation. SJBAS consists of people who are interested in the archaeology, culture, and early history of the Four Corners region. We have members of all ages and backgrounds, some with extensive training in archaeology and others with more limited knowledge, but a strong desire to learn.
Our mission is to advocate for and promote public awareness and preservation of archaeological, cultural, and historical resources, primarily of the Four Corners region of the American Southwest.

Members are eligible to participate in SJBAS field trips and they receive a monthly newsletter, the Moki Messenger, with information about current SJBAS activities and other matters of archaeological and historical interest.