Trips & Activities
Tentative 2012 Field Trip Schedule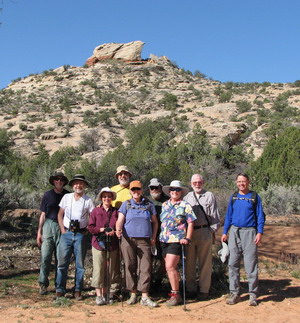 The Field Trip Committee of the San Juan Basin Archaeological Society, assisted by the chapter officers and other members, have proposed the following trips for the year 2013. Participation in these outings should help us better understand and appreciate the history, prehistory, and cultural diversity of the Four Corners region and its ecological relationships. Please see forthcoming issues of the Moki Messenger (our chapter newsletter) or our Trips & Activities web page for details regarding the itineraries, departure times and places, participation limits, and related matters. Do read the General Information About Field Trips.
This is a tentative trip schedule; although we truly hope to go on the listed outings on the dates shown, these dates and destinations are subject to change due to adverse weather or road conditions, possible permit problems, unanticipated scheduling conflicts, or the whims of trip leaders.
The trips and dates listed below are those suggested at our chapter's annual trip planning meeting and we trust that we can adhere to this schedule to a large extent. More details about the trip plans, procedures and possible date and itinerary changes will be given at future chapter meetings, in our monthly newsletter and on our Website. You may also contact the trip leaders for information regarding these outings.
In addition to the following trips, there are several important conferences and meetings scheduled for this year, including the Pecos Conference and the Colorado Archaeological Society Annual Meeting and Symposium. Check your Moki Messenger or our Website at www.sjbas.org for details as they become available.
Dates

San Juan Basin Archeology Society

Tentative Field Trip Schedule - 2012

Changes are in red.

February 21-23

MOAB PETROGLYPHS

This will be a three-day motel trip to visit many petroglyph sites in the area. Most of the sites have good vehicle access, so hikes will be short.

Trip Leaders: Bill Cagle 385-4566 cagle81301@yahoo.com and Jim Shadell

March 1 - 4
COCHISE COUNTY, ARIZONA

This will be a four-day motel trip. Plan on meeting Gail and Marlo near Tombstone, AZ on March 1st for their annual snowbird special. This will be a great opportunity to learn about the exciting history of southern Arizona while thawing out from the cold.

Trip Leaders: Gail and Marlo Schulz 970-946-5234 mschulz@frontier.net

March 20 - 23
AGUA FRIA NATIONAL MONUMENT AND NEARBY LOCATIONS

This will be a four-day car camping trip to central Arizona. We will roam Perry Mesa and its canyons to develop informed opinions about the 500 sites and petroglyph panels in the area. We will visit other sites which will require individual registration. This is Arizona Archaeology and Heritage Awareness Month, so sign up by February 1st. The trip participation limit is 20, and high-clearance 4WD vehicles are necessary.

Trip Leader: Mary Ann Hiller 970-259-5170 johnhilldurco@durango.net
April 14

DINETAH PUEBLITOS

This will be a day trip to visit pueblitos in an area east of Bloomfield, New Mexico, with one of our favorite guides, David Eck, New Mexico Trust Land Archaeologist.

We will do several easy to moderate hikes of less than a mile to ruins and petroglyph sites.

This day trip will require high-clearance vehicles, but high-clearance, 4WD vehicles are preferred. Trip participation limit is 20.

Trip Leader: Mary Ann Hiller 970-259-5170 johnhilldurco@durango.net

April 28 - 29

UTE MOUNTAIN UTE TRIBAL PARK SERVICE WEEKEND

This will be a two-day car camping or motel trip. The Hisatsinom Chapter will join us for our annual work and play outing at the Ute Mountain Ute Tribal Park. We will provide a day of labor on a needed project and receive in exchange a tour of Tribal Park sites not always open to the public. Be prepared for a day of manual labor; bring work gloves, sun hat, tools, and plenty of water. A day trip "work only" option is available. High-clearance, 4WD vehicles are preferred.

Trip Leaders: Kathleen and Jim Shadell 970-247-5597 shadkj@durango.net

May 12
DURANGO WALKING TOUR

Dr. Andrew Gulliford will guide us through the Historic District of Durango explaining the interesting history associated with many of our historic buildings.

Trip Leader: Mary Ann Hiller 970-259-5170 johnhilldurco@durango.net

May 19
THE MONTEZUMA VALLEY

We will join the Hisatsinom Chapter on this day trip for a moderate hike in a canyon and on a mesa with Jerry, a well know archaeologist, to view petroglyphs and maybe an additional site of interest. Weather conditions or the permit may dictate the actual location. Trip participation limit is 7 for each Chapter.

Trip Leaders: Gail and Marlo Schulz 970-946-5234 mschulz@frontier.net

May 23
THE LANCASTER SITE

Special arraignments are being made for a day trip to visit this site. We will be escorted by Tom, known by many in our organization. Trip participation limit is 20.

Trip Leader: Mary Ann Hiller 970-259-5170 johnhilldurco@durango.net

May 31 - June 3
NW COLORADO

This will be a four-day car camping trip. We will be escorted by a BLM Archaeologist to the Canyon Pintado National Historic District and will explore Dinosaur National Monument to visit many Fremont petroglyphs. There will be a half-day (?) strenuous hike, but other hikes will be short and easy. Trip participation limit is 20.

Trip Leader: Mary Ann Hiller 970-259-5170

johnhilldurco@durango.net

June 20
SALMON RUINS

This will be a day trip to see the Solstice Sunrise event at Salmon Ruins. We must arrive no later than 7:00 a.m. We will witness the event as described by Larry Baker when he gave that excellent presentation to our group.

Trip Leader: Mary Ann Hiller 970-259-5170 johnhilldurco@durango.net

TBD
SILVER LAKE

This day trip will be a 4.6-mile roundtrip hike to Silver Lake and the Royal Tiger Mine, the site of significant mining activity. There is one difficult section, but most of this trip is a moderately difficult hike at high altitude. Elevations range from 10,800 to 12,360 feet. We recommend high-clearance, 4WD vehicles; carpooling will be available.

Trip Leaders: Kathleen and Jim Shadell 970-247-5597 shadkj@durango.net

June 29
FLC FIELD SCHOOL DIG NEAR LOWRY PUEBLO

We will visit Dr. Riggs and his students at their new summer dig near Lowry Pueblo (not the Pigg site). This year's students will join in explaining the work.

We will carpool from Santa Rita Park leaving at 7:30 a.m. to avoid midday heat. Following the site visit we will do a self-guided tour of Lowry Pueblo. In the afternoon we will visit the Anasazi Heritage Center to see a special exhibit about the Hohokam. Bring lunch, lots of water and sun-protection. Afternoon storms are possible as are insects.

This is an easy trip and a good one for members inexperienced with our field trips. Access to the site will be on a short dirt trail from the Lowry parking lot. Condition of the trail may vary with weather conditions. Travel distance is 71.4 miles on good roads, paved until the last few miles of gravel. Travel time is 1 hr. 15 minutes to 1 and ½ hours. Members who live near the site can join us in the Lowry parking lot between 8:45 and 9 a.m. The Anasazi Heritage Center is on our route home. There is no limit on attendees.

Please RSVP trip leaders Gail and Marlo Schulz at 970-946-5234 or e-mail mschulz@frontier.net

July 11
CARSON CITY

Our journey along the Cinnamon Pass road up Wager Gulch will stop at several mining sites in addition to Carson City to obtain Rudy's View. The trip will either be a long day trip, a car camping trip, or participants may go to Creed, stay in a motel, and attend the theater. Have it your way and plan ahead. High-clearance, 4WD vehicles are required. Trip participation limit is 20.

Trip Leader: Mary Ann Hiller 970-259-5170 johnhilldurco@durango.net

Sept. 22 - 23
DINETAH PUEBLITOS AND PETROGLYPHS

This two-day trip will be offered as a B&B trip with two beds per room at the School House. During our stay we will visit the School House and Fire Place pueblitos, an equinox petroglyph, and other features in the area. Those wishing for a day trip may participate in some of the activities.

Trip Leader: Jerry Lincoln jkinindia@gmail.com

September 26
LA PLATA CANYON

This will be an interesting day trip to the site of Parrot City, the county seat of La Plata County from 1876 to 1881. In this colorful fall setting we will learn about the early history of SW Colorado from our own historian, John.

Trip Leader: John Sanders 259-0841

October 3 - 5
CEDAR MESA

During this three-day car camping trip we will hike to sites in White Canyon and on Cedar Mesa. Hikes will be several miles long and moderately difficult, with some exposure on sandstone ridges. High-clearance, 4WD vehicles are required, and there is a trip participation limit of 12.

Trip Leaders: Barb and Lyle Hancock 764-4531 lylehancock@bresnan.net

October 13
HISTORIC RANCHES IN LARGO CANYON

On this day trip we will be escorted by Jim, a BLM archaeologist, on a venture called "Wild, Wooly and Wonderful: The Upper Landscape of Upper Largo Canyon". There is a trip participation limit of 20.

Trip Leaders: Rhonda Raffo and Jim Mueller 259-8870 rhondaandjim@msn.com.

October 25 - 28
WINSLOW AREA AND HOPI MESA

During this culturally interesting four-day motel trip we will visit sites and petroglyphs in the Winslow area and on Hopi Mesa. Our Hopi guide on Black Mesa will provide a number of unique cultural opportunities for us. We will also visit Homolovi State Park and Petrified Forest National Park. Trip participation limit is 20.

Trip Leader: Mary Ann Hiller 970-259-5170 johnhilldurco@durango.net

November 11 - 13
JEMEZ MOUNTAINS

During this three-day motel or car camping trip we will attend the San Diego Feast Day at the Jemez Pueblo with food and dances, and visit sites and petroglyphs on the east side of the Jemez River. Trip participation limit is 20.

Trip Leaders: Janice and Brooks Taylor durangofolk@frontier.net

TBD
GREENLEE SITE

During this day trip we will visit the privately owned, 400-room, 100-kiva Greenlee Site in the Dove Creek area. We will be escorted by David Dove while work is going on at the site. Some very unusual architecture and cultural customs have been recognized. Trip participation limit is 20.

Trip Leader: Mary Ann Hiller 970-259-5170 johnhilldurco@durango.net